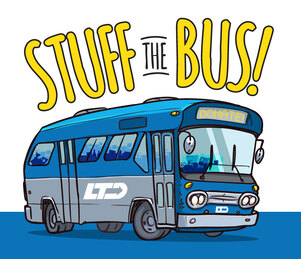 Stuff the Bus to Support Local Families
November 3, 2023
Join Lane Transit District (LTD) and local radio stations US 101 and 104.7 KDUK to Stuff the Bus with non-perishable* food and unwrapped children's toys to share with families needing extra support this holiday season.
Volunteers from US 101, 104.7 KDUK and the United States Marine Corps will be accepting donations at the following Walmarts:
Friday, Nov. 3, 2023, 10 a.m. to 7 p.m.
2659 Olympic St., Springfield, Ore.
Saturday, Nov. 4, 2023, 10 a.m. to 6 p.m.
1040 Green Acres Rd., Eugene, Ore.
A list of the most needed food items is available on the Food for Lane County website.
For 28 years, the community has generously donated tens of thousands of pounds of food through the Stuff the Bus campaign. It's distributed to families in need through Food For Lane County. The toys are given to children through the Lane County Toys for Tots program.
For more information about Stuff the Bus, visit KDUK.com, FoodForLaneCounty.org, and the County's Toys for Tots website.
Stuff the Bus is a partnership with 104.7 KDUK, US 101, Food for Lane County, Lane County Toys for Tots, Walmart and Lane Transit District.
Community members can ride LTD to Walmart to participate. Complete LTD bus schedules are available online.
*Frozen foods, fresh produce, meat, and dairy cannot be accepted. Non-perishable food items only.