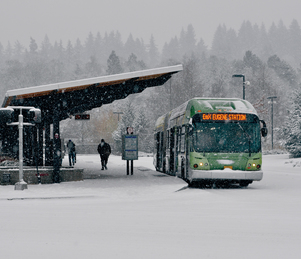 Travelers: Be Prepared for Snow and Ice
December 21, 2017
Media Contact: Therese Lang
Email: Therese.Lang@LTD.org
Phone: 541-682-6101

The arrival of chilly temps and the prospect of icy roads and snow flurries has the region's public transportation provider, Lane Transit District (LTD), preparing once again for winter weather.
"Lane Transit District doesn't stop running when snow or icy conditions hit our region," said General Manager Aurora Jackson. "We make the necessary operational adjustments to keep our service running and get riders where they need to go safely."
LTD's regular bus, EmX (pronounced M-X), and RideSource services will continue operating should a storm front hit the region. Some routes will run on pre-planned detours, depending on road conditions, especially buses on routes that operate on hills, over bridges, or on side streets that become difficult in slick or freezing weather. When "snow and ice service" is put into effect, LTD will post service alerts via its website and Twitter account. LTD will also provide updates to area media to keep the public informed.
Lane Transit District's "Snow and Ice Digest" is available now on online as a printable PDF located here: https://www.ltd.org/snow-ice-information/. The "Snow and Ice Digest" provides riders with comprehensive information about traveling by bus in severe weather. The "Snow and Ice Digest" includes bus routes potentially affected by snow and ice detours. Routes which serve outlying areas and the hills in South Eugene and East Springfield are traditionally impacted the most by severe weather conditions.
LTD is diligent in operating in difficult conditions but schedules and routing can be impacted by road and weather conditions. Safety is LTD's top priority. Riders should check to see if their routes may be impacted and remember to:
dress warmly and expect delays;

stand back from the curb until the bus comes to a complete stop; and

give your driver plenty of notice when signaling to get off the bus

While the local radio and television stations will report updated bus route information, the surest way to access real time information specific to your bus route and bus stop is on LTD's Twitter (@LaneTransit) or LTD.org. (https://www.ltd.org/snow-ice-information/).