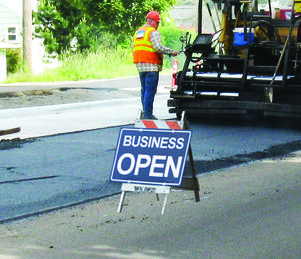 West Eugene EmX Paving Blitz Beats Storm; Completes Three Days' Work in 11 Hours
October 13, 2016
Contact: Edward McGlone
Email: Edward.McGlone@ltd.org
Phone: 541-682-6101
Yesterday's paving blitz on West 11th Avenue completed three days' worth of work in only 11 hours. The work, an unusual concerted effort to close up road work prior to the arrival of a serious fall storm, completed a 1.2 mile stretch of West Eugene Emx-related paving from Beltline Highway to Bailey Hill Road.
Running up against an impending prolonged storm, construction crews rushed to finish paving the middle lanes of West 11th Avenue, preventing significant water pooling from the several inches of rain forecast for the region this week. To limit business and traffic disruptions, major road work on the $100.5 million project has typically been limited to a 7 p.m. start time, however City of Eugene officials gave work crews permission to advance their start time to 3 p.m. to beat the storm.
"We were really under the gun to get this done," project manager Joe McCormack said. "The storm would have posed serious safety and mobility hazards for motorists, residents, and businesses had we not finished this paving."
Rush hour traffic was significantly disrupted by the construction work last night. LTD General Manager A.J. Jackson said, "Thank you to all the motorists and businesses who were patient and cautious during yesterday's work. We're sorry for the disruption, but we hope it was worth it now that we are done with paving along this section of the project."
The effort completed paving for the road section stretching from Bailey Hill Road to Beltline Highway. The West Eugene EmX project, slated to open in September 2017, will also yield six miles of new and improved road surface, five miles of rebuilt and new sidewalks, plant more than 400 trees, and install two new bicycle-pedestrian bridges across the Amazon Creek.