LTD Turns 50!
Take a walk through time
Originally, Emerald Transportation was the first bus company to operate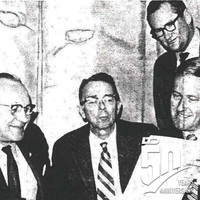 in the Eugene-Springfield area, but declared bankruptcy and was unable to continue offering transit service. Seeing the need for transit in the community, Eugene, Springfield, and Lane County petitioned Governor Tom McCall to establish a transit district for Lane County, and on June 30, 1970, Lane Transit District (LTD) was incorporated. LTD purchased Emerald Transportation's fleet and garage facilities, and began operation on November 23, 1970.
During the month of November, LTD will be celebrating the past 50 years and the major milestones. From its first buses, the "Green Meanies", to the new Electric buses, along with station, service, and technology improvements. It's been 50 years and LTD continues its pledge of providing safe and reliable transportation to the community of Lane County.

Follow LTD on
Facebook
to take the journey through time, and even share some of your own LTD photos and stories #LTD50years.