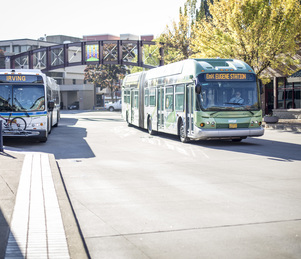 Lane Transit District Wants Public Input on Changes to West Eugene Service
February 7, 2017
Media Contact: Therese Lang
Email: Therese.Lang@LTD.org
Phone: 541-682-6101
In advance of the West Eugene EmX opening, Lane Transit District (LTD) is unveiling proposed service changes in West Eugene and seeking public feedback. LTD is planning to provide information to the public about the new West Eugene service and to collect input from the public through an online survey and a series of public meetings.

LTD is focusing on West Eugene because LTD is launching its new EmX bus rapid transit line on September 17, 2017. LTD is making these service changes to enhance riders' connectivity within the system and to avoid a duplication of service into and out of West Eugene. The new EmX line will provide greater connectivity, less congestion and more frequent service while eliminating some redundant bus service into and out of the area .
Routes that will be most directly impacted include: 28, 32, 36, 41, 43, 55, 76, 78 & 93. Riders of these routes are urged to both attend one of LTD's presentations about the new service changes and take the survey, but everyone is encouraged to participate.
Several public presentations are taking place around LTD's service area so that as many stakeholders can be engaged as possible. Additionally, a description of proposed changes and a survey have been launched on the LTD website at: https://www.ltd.org/west-eugene/. Click on the button that appears on the route map to be redirected to the survey.
Below are a list of upcoming public presentations. For more information, visit https://www.ltd.org/west-eugene/.
February 9, 2017:
Mc Cornack Elementary School - Library
1968 Brittany Street
Eugene, 97405
7 p.m. – 8:30 p.m.