Rhody Express

Save this route as a favorite
Holiday - Martin Luther King Jr. Day
LTD buses will operate regular weekday schedules for Martin Luther King Jr. Day, Monday, January 21. LTD's Customer Service Center will be open from 7:00 a.m. to 7:00 p.m. LTD's Administrative offices will be closed.
Winter Service Changes Beginning Sunday, February 3
Beginning Sunday, Febrary 3, LTD will be implementing its 2019 winter service changes. These changes affect EmX and Routes 11, 12, 13, 17, 18, 24, 27, 33, 36, 40, 41, 51, 66, 67, 73, 78, 79x, 81, 82, 85, 91, 92, 93, 96 and 98. For more details
click here
.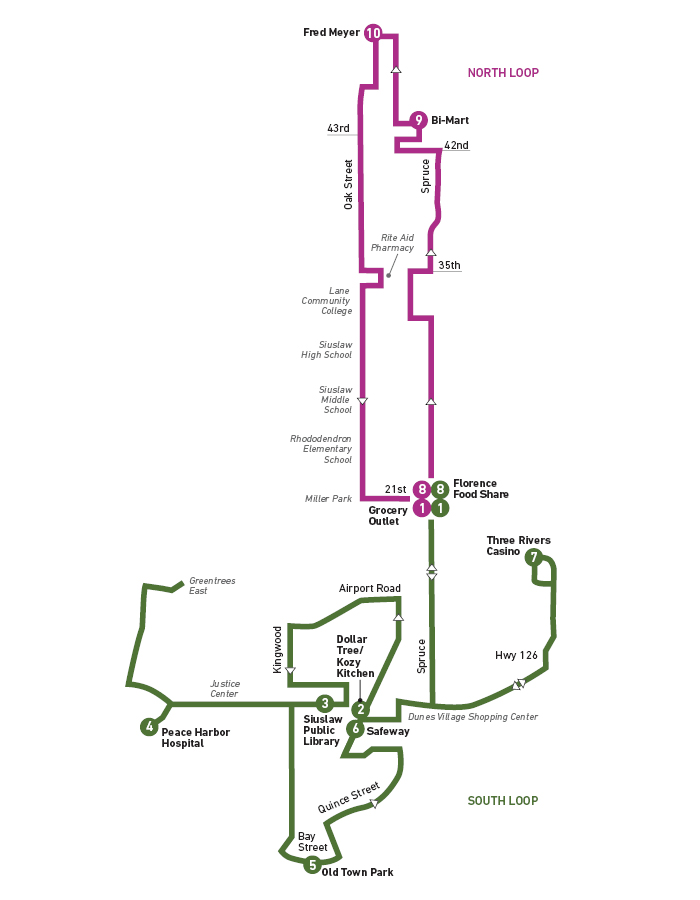 Welcome to the Rhody Express, your public transportation provider in Florence.
Fares
$1 or 1 ticket per one-way trip.
$2 or 2 tickets for all day
Ticket books (20 tickets for $20) are available at River Cities Taxi/Rhody Express 1699 Pine St.
Information
For more information visit the Rhody Express page.
Riding From South to North
The Rhody Express operates a 60-minute circuit by first traveling the South Loop and then the North Loop. If your destination is not on the loop on which you are boarding, remain on the bus as it switches to the next loop, and you will reach your destination.
Choose Your Travel Direction
| Grocery Outlet | Dollar Tree/Kozy Kitchen | Siuslaw Public Library | Peace Harbor Hospital | Old Town Park | Safeway | Three Rivers Casino | Florence Food Share |
| --- | --- | --- | --- | --- | --- | --- | --- |
| | | | | | | | |
| --- | --- | --- | --- | --- | --- | --- | --- |
| 10:00 AM | 10:05 AM | 10:10 AM | 10:17 AM | 10:23 AM | 10:28 AM | 10:33 AM | 10:38 AM |
| 11:00 AM | 11:05 AM | 11:10 AM | 11:17 AM | 11:23 AM | 11:28 AM | 11:33 AM | 11:38 AM |
| 12:00 PM | 12:05 PM | 12:10 PM | 12:17 PM | 12:23 PM | 12:28 PM | 12:33 PM | 12:38 PM |
| 1:00 PM | 1:05 PM | 1:10 PM | 1:17 PM | 1:23 PM | 1:28 PM | 1:33 PM | 1:38 PM |
| 2:00 PM | 2:05 PM | 2:10 PM | 2:17 PM | 2:23 PM | 2:28 PM | 2:33 PM | 2:38 PM |
| 3:00 PM | 3:05 PM | 3:10 PM | 3:17 PM | 3:23 PM | 3:28 PM | 3:33 PM | 3:38 PM |
| 4:00 PM | 4:05 PM | 4:10 PM | 4:17 PM | 4:23 PM | 4:28 PM | 4:33 PM | 4:38 PM |
| 5:00 PM | 5:05 PM | 5:10 PM | 5:17 PM | 5:23 PM | 5:28 PM | 5:33 PM | 5:38 PM |
| Florence Food Share | Bi-Mart | Fred Meyer | Grocery Outlet |
| --- | --- | --- | --- |
| | | | |
| --- | --- | --- | --- |
| 10:38 AM | 10:45 AM | 10:47 AM | 10:58 AM |
| 11:38 AM | 11:45 AM | 11:47 AM | 11:58 AM |
| 12:38 PM | 12:45 PM | 12:47 PM | 12:58 PM |
| 1:38 PM | 1:45 PM | 1:47 PM | 1:58 PM |
| 2:38 PM | 2:45 PM | 2:47 PM | 2:58 PM |
| 3:38 PM | 3:45 PM | 3:47 PM | 3:58 PM |
| 4:38 PM | 4:45 PM | 4:47 PM | 4:58 PM |
| 5:38 PM | 5:45 PM | 5:47 PM | 5:58 PM |