ROUTE 988x-989x

Oregon Country Fair Express

Save this route as a favorite
Holiday - Martin Luther King Jr. Day
LTD buses will operate regular weekday schedules for Martin Luther King Jr. Day, Monday, January 21. LTD's Customer Service Center will be open from 7:00 a.m. to 7:00 p.m. LTD's Administrative offices will be closed.
Winter Service Changes Beginning Sunday, February 3
Beginning Sunday, Febrary 3, LTD will be implementing its 2019 winter service changes. These changes affect EmX and Routes 11, 12, 13, 17, 18, 24, 27, 33, 36, 40, 41, 51, 66, 67, 73, 78, 79x, 81, 82, 85, 91, 92, 93, 96 and 98. For more details
click here
.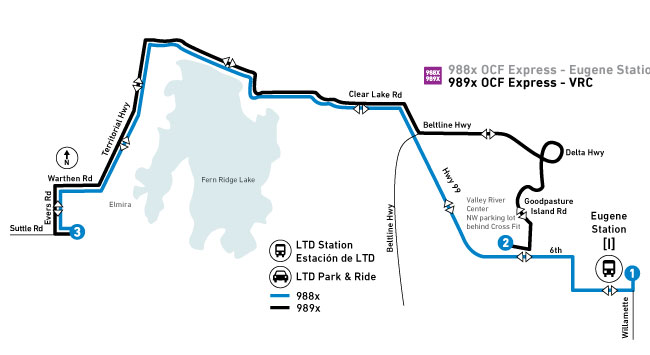 Fair Attendees Ride Free to the Oregon Country Fair
LTD offers free bus service to fair attendees, courtesy of the Oregon Country Fair (OCF), during the three days of the event.
Buses depart on a regular basis from either:

Eugene Station
Temporary stop located in the northwest parking lot at Valley River Center behind Crossfit
During the fair, to ride free on any LTD bus and connect to the Oregon Country Fair Express, fair attendees will need to show their OCF entrance tickets to the LTD bus operator. Tickets to the Oregon Country Fair need to be purchased in advance since tickets are not available at the gate.
Choose Your Travel Direction
| Eugene Station | Oregon Country Fair | Eugene Station |
| --- | --- | --- |
| | | |
| --- | --- | --- |
| 10:00 AM | 10:35 AM | 11:10 AM |
| 10:15 AM | 10:50 AM | 11:25 AM |
| 10:30 AM | 11:05 AM | 11:40 AM |
| 10:45 AM | 11:20 AM | 11:55 AM |
| 11:00 AM | 11:35 AM | 12:10 PM |
| 11:15 AM | 11:50 AM | 12:25 PM |
| 11:30 AM | 12:05 PM | 12:40 PM |
| 11:45 AM | 12:20 PM | 12:55 PM |
| 12:00 PM | 12:35 PM | 1:10 PM |
| 12:15 PM | 12:50 PM | 1:25 PM |
| 12:30 PM | 1:05 PM | 1:40 PM |
| 12:45 PM | 1:20 PM | 1:55 PM |
| 1:00 PM | 1:35 PM | 2:10 PM |
| 1:20 PM | 1:55 PM | 2:30 PM |
| 1:40 PM | 2:15 PM | 2:50 PM |
| 2:00 PM | 2:35 PM | 3:10 PM |
| 2:20 PM | 2:55 PM | 3:30 PM |
| 2:40 PM | 3:15 PM | 3:50 PM |
| 3:00 PM | 3:35 PM | 4:10 PM |
| 3:20 PM | 3:55 PM | 4:30 PM |
| 3:40 PM | 4:15 PM | 4:50 PM |
| 4:00 PM | 4:35 PM | 5:10 PM |
| 4:20 PM | 4:55 PM | 5:30 PM |
| 4:40 PM | 5:15 PM | 5:50 PM |
| 5:00 PM | 5:35 PM | 6:10 PM |
| 5:15 PM | 5:50 PM | 6:25 PM |
| 5:30 PM | 6:05 PM | 6:40 PM |
| 5:45 PM | 6:20 PM | 6:55 PM |
| 6:00 PM | 6:35 PM | 7:10 PM |
| 6:15 PM | 6:50 PM | 7:25 PM |
| --- | 7:05 PM | 7:40 PM |
| --- | 7:30 PM | 8:05 PM |
| Valley River NW parking lot | Oregon Country Fair | Valley River NW parking lot |
| --- | --- | --- |
| | | |
| --- | --- | --- |
| 10:00 AM | 10:35 AM | 11:10 AM |
| 10:15 AM | 10:50 AM | 11:25 AM |
| 10:30 AM | 11:05 AM | 11:40 AM |
| 10:45 AM | 11:20 AM | 11:55 AM |
| 11:00 AM | 11:35 AM | 12:10 PM |
| 11:15 AM | 11:50 AM | 12:25 PM |
| 11:30 AM | 12:05 PM | 12:40 PM |
| 11:45 AM | 12:20 PM | 12:55 PM |
| 12:00 PM | 12:35 PM | 1:10 PM |
| 12:15 PM | 12:50 PM | 1:25 PM |
| 12:30 PM | 1:05 PM | 1:40 PM |
| 12:45 PM | 1:20 PM | 1:55 PM |
| 1:00 PM | 1:35 PM | 2:10 PM |
| 1:20 PM | 1:55 PM | 2:25 PM |
| 1:40 PM | 2:15 PM | 2:45 PM |
| 2:00 PM | 2:35 PM | 3:25 PM |
| 2:20 PM | 2:55 PM | 3:40 PM |
| 2:40 PM | 3:15 PM | 3:55 PM |
| 3:00 PM | 3:35 PM | 4:25 PM |
| 3:20 PM | 3:55 PM | 4:40 PM |
| 3:40 PM | 4:15 PM | 4:55 PM |
| 4:00 PM | 4:35 PM | 5:25 PM |
| 4:20 PM | 4:55 PM | 5:40 PM |
| 4:40 PM | 5:15 PM | 5:55 PM |
| 5:00 PM | 5:35 PM | 6:10 PM |
| 5:15 PM | 5:50 PM | 6:25 PM |
| 5:30 PM | 6:05 PM | 6:40 PM |
| 5:45 PM | 6:20 PM | 6:55 PM |
| 6:00 PM | 6:35 PM | 7:10 PM |
| 6:15 PM | 6:50 PM | 7:25 PM |
| --- | 7:05 PM | 7:40 PM |
| --- | 7:30 PM | 8:05 PM |