ROUTE 988x-989x

Oregon Country Fair Express

Save this route as a favorite
All Routes - Face Masks Required
LTD requires all persons over the age of 2 on LTD vehicles or LTD property to wear a face mask covering both nose and mouth. The face masks must be made of a solid piece of material without slits, valves or punctures and contain two or more layers of breathable, tightly woven fabric. Face shields, scarves, ski masks, bandanas and shirt collars are not acceptable face masks according to federal law, effective February 2, 2021. For more information on acceptable face masks and accommodation requests, visit
LTD.org/covid-19
.
All Routes - Bulky and Unsafe Items
In order to maintain adequate physical distancing, items that pose a safety hazard may not be boarded, such as bulky items that block aisles or items that are leaking fluids. Recyclables that can be safely transported without impeding aisles or placed on a passenger's lap without leaking are acceptable.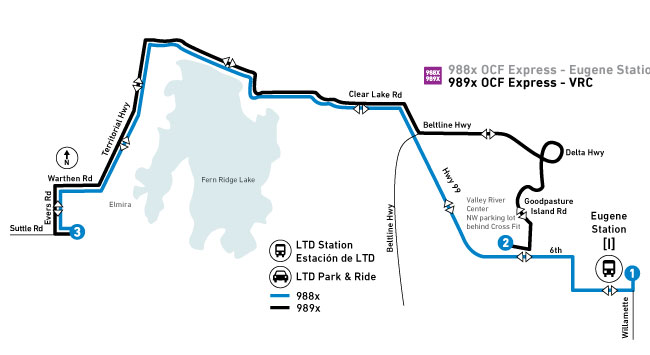 Fair Attendees Ride Free to the Oregon Country Fair
LTD offers free bus service to fair attendees, courtesy of the Oregon Country Fair (OCF), during the three days of the event.
Buses depart on a regular basis from either:

Eugene Station
Temporary stop located in the northwest parking lot at Valley River Center behind Crossfit
During the fair, to ride free on any LTD bus and connect to the Oregon Country Fair Express, fair attendees will need to show their OCF entrance tickets to the LTD bus operator. Tickets to the Oregon Country Fair need to be purchased in advance since tickets are not available at the gate.
Choose Your Travel Direction
| Eugene Station | Oregon Country Fair | Eugene Station |
| --- | --- | --- |
| | | |
| --- | --- | --- |
| 10:00 AM | 10:35 AM | 11:10 AM |
| 10:15 AM | 10:50 AM | 11:25 AM |
| 10:30 AM | 11:05 AM | 11:40 AM |
| 10:45 AM | 11:20 AM | 11:55 AM |
| 11:00 AM | 11:35 AM | 12:10 PM |
| 11:15 AM | 11:50 AM | 12:25 PM |
| 11:30 AM | 12:05 PM | 12:40 PM |
| 11:45 AM | 12:20 PM | 12:55 PM |
| 12:00 PM | 12:35 PM | 1:10 PM |
| 12:15 PM | 12:50 PM | 1:25 PM |
| 12:30 PM | 1:05 PM | 1:40 PM |
| 12:45 PM | 1:20 PM | 1:55 PM |
| 1:00 PM | 1:35 PM | 2:10 PM |
| 1:20 PM | 1:55 PM | 2:30 PM |
| 1:40 PM | 2:15 PM | 2:50 PM |
| 2:00 PM | 2:35 PM | 3:10 PM |
| 2:20 PM | 2:55 PM | 3:30 PM |
| 2:40 PM | 3:15 PM | 3:50 PM |
| 3:00 PM | 3:35 PM | 4:10 PM |
| 3:20 PM | 3:55 PM | 4:30 PM |
| 3:40 PM | 4:15 PM | 4:50 PM |
| 4:00 PM | 4:35 PM | 5:10 PM |
| 4:20 PM | 4:55 PM | 5:30 PM |
| 4:40 PM | 5:15 PM | 5:50 PM |
| 5:00 PM | 5:35 PM | 6:10 PM |
| 5:15 PM | 5:50 PM | 6:25 PM |
| 5:30 PM | 6:05 PM | 6:40 PM |
| 5:45 PM | 6:20 PM | 6:55 PM |
| 6:00 PM | 6:35 PM | 7:10 PM |
| 6:15 PM | 6:50 PM | 7:25 PM |
| --- | 7:05 PM | 7:40 PM |
| --- | 7:30 PM | 8:05 PM |
| Valley River NW parking lot | Oregon Country Fair | Valley River NW parking lot |
| --- | --- | --- |
| | | |
| --- | --- | --- |
| 10:00 AM | 10:35 AM | 11:10 AM |
| 10:15 AM | 10:50 AM | 11:25 AM |
| 10:30 AM | 11:05 AM | 11:40 AM |
| 10:45 AM | 11:20 AM | 11:55 AM |
| 11:00 AM | 11:35 AM | 12:10 PM |
| 11:15 AM | 11:50 AM | 12:25 PM |
| 11:30 AM | 12:05 PM | 12:40 PM |
| 11:45 AM | 12:20 PM | 12:55 PM |
| 12:00 PM | 12:35 PM | 1:10 PM |
| 12:15 PM | 12:50 PM | 1:25 PM |
| 12:30 PM | 1:05 PM | 1:40 PM |
| 12:45 PM | 1:20 PM | 1:55 PM |
| 1:00 PM | 1:35 PM | 2:10 PM |
| 1:20 PM | 1:55 PM | 2:25 PM |
| 1:40 PM | 2:15 PM | 2:45 PM |
| 2:00 PM | 2:35 PM | 3:25 PM |
| 2:20 PM | 2:55 PM | 3:40 PM |
| 2:40 PM | 3:15 PM | 3:55 PM |
| 3:00 PM | 3:35 PM | 4:25 PM |
| 3:20 PM | 3:55 PM | 4:40 PM |
| 3:40 PM | 4:15 PM | 4:55 PM |
| 4:00 PM | 4:35 PM | 5:25 PM |
| 4:20 PM | 4:55 PM | 5:40 PM |
| 4:40 PM | 5:15 PM | 5:55 PM |
| 5:00 PM | 5:35 PM | 6:10 PM |
| 5:15 PM | 5:50 PM | 6:25 PM |
| 5:30 PM | 6:05 PM | 6:40 PM |
| 5:45 PM | 6:20 PM | 6:55 PM |
| 6:00 PM | 6:35 PM | 7:10 PM |
| 6:15 PM | 6:50 PM | 7:25 PM |
| --- | 7:05 PM | 7:40 PM |
| --- | 7:30 PM | 8:05 PM |
Printable Schedule