LTD | Connector

Save this route as a favorite
New App for LTD Connector
Beginning March 16th, passengers using LTD's Cottage Grove Connector will need to use the new LTD Connector app instead of TransLoc. LTD Connector can be downloaded for free through the Apple App Store and Google Play Store.

All Routes - Face Masks Required
LTD requires all persons over the age of 2 on LTD vehicles or LTD property to wear a face mask covering both nose and mouth. The face masks must be made of a solid piece of material without slits, valves or punctures and contain two or more layers of breathable, tightly woven fabric. Face shields, scarves, ski masks, bandanas and shirt collars are not acceptable face masks according to federal law, effective February 2, 2021. For more information on acceptable face masks and accommodation requests, visit
LTD.org/covid-19
.
All Routes - Bulky and Unsafe Items
In order to maintain adequate physical distancing, items that pose a safety hazard may not be boarded, such as bulky items that block aisles or items that are leaking fluids. Recyclables that can be safely transported without impeding aisles or placed on a passenger's lap without leaking are acceptable.
A Great Way to Get Around Cottage Grove
Share your ride and save money with the LTD Connector.
---
The LTD Connector is a shuttle service in Cottage Grove operated by South Lane Wheels. This is a pilot program operating only within the Cottage Grove city limits, with continued service dependent on service results. LTD hopes to use the new technology in more areas and neighborhoods. Stay tuned!
How do I book a ride with the LTD Connector?
You can book a trip on an LTD Connector vehicle using one of two methods: mobile app or phone call. Submit your pick-up and drop-off locations, and a vehicle will pick you up. It's that easy. The cost of the shuttle is $1 per ride.
What are the hours of operation?
Service and call-in requests are offered between 9:00 a.m. and 4:00 p.m. Monday-Friday. The service does not operate on Saturday or Sunday, but regular LTD Route 98 service will operate on weekends. Service does not operate on the following holidays:
New Year's Day, observed Friday, December 31, 2021
Memorial Day
Independence Day, observed Monday, July 5, 2021
Labor Day
Thanksgiving Day
Day after Thanksgiving
Christmas Day, observed Friday, December 24, 2021
How much does a ride cost and how do I pay?
Each ride is $1 and must be paid in cash. LTD fare including student ID, Half-Fare, or Honored Rider passes are not currently accepted on the LTD Connector.
What is the normal wait time to be picked up?
You can view estimated wait times when you enter your pick-up and drop-off locations in the app or via text message. Wait times will vary depending on nearby driver availability and other passengers, but generally wait times do not exceed 30 minutes.
Will customers who use wheelchairs be able to use the service?
Yes! In addition to 10 seats, LTD Connector vans are equipped with two wheelchair bays.
What are the service areas?
The Cottage Grove Connector pilot program will only operate within the Cottage Grove city limits.
LTD hopes to use this new technology in more areas and neighborhoods. Stay tuned!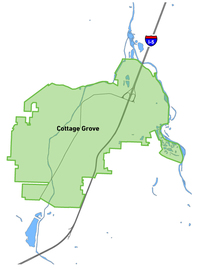 I don't have a smartphone to download the LTD Connector app. Can I still book a ride?
Simply call LTD Connector dispatch at 541-942-0456 ext. 1 Monday-Friday from 9:00 a.m.-4:00 p.m. The first time you call to book a ride, you will need to setup an account, which will allow for a smooth booking process in the future.
What is Mobility On Demand?
The LTD Connector is a Mobility On Demand (MOD) service of LTD. MOD is a transportation option that uses a smartphone application and special vehicles to provide service that has no fixed schedules or routes and has an infinite number of on-demand stops.
What precautions are in place on the LTD Connector in response to COVID-19?
Vehicle occupancy (regularly 10 ambulatory and two mobility devices) is reduced during social distancing to up to four individuals, or two ambulatory and two mobility devices. Additional passengers are allowed when traveling in their own family unit or group. Additional COVID mitigation include:
Vehicle operators and passengers will be required to wear hands-free nose and mouth coverings compliant with Federal Order.
LTD/South Lane Wheels will regularly wipe down all hard surfaces in the vehicle.
Vehicle operators will open vehicle windows for fresh air as often as possible.
Vehicle operator temperatures will be checked prior to beginning work.
Social distancing is required for all persons not traveling together (maximum of four people or groups per vehicle.)