Congratulations to Diane, LTD's 2017 Employee of the Year!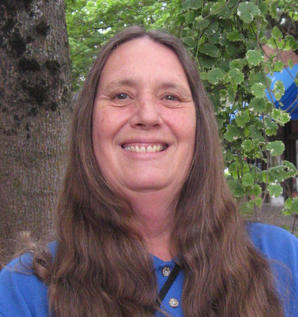 Diane, the LTD Station Cleaner, has been awarded the LTD 2017 Employee of the Year award. Dianne began work for the District in 1986; and since then, has received three Employee of the Month awards, six Monthly Value awards, and now two Employee of the Year Awards.
An LTD customer who was waiting to use the restroom while Diane was cleaning it commented that she did a great job and was very caring and kind ensuring that they were able to get into the restroom before she left. The customer also said that "she goes above the call of duty when dealing with disrespectful teenagers outside and hurries up (while cleaning bathrooms) when people are lined up to use facilities."
According to Diane's Supervisor: Diane is a pleasure to supervise. She shows up every day ready to do the best job she can. It doesn't matter what she has to deal with, or what type of weather, she always does it willingly and with purpose. Her purpose is to make the Eugene Station experience the most comfortable possible for all patrons and employees. Diane also responds to requests to clean up spills or to clean soiled bus seats. For Diane, it is all part of the job. I can't count the number of comments I've received, over the years, about how well she does her job. It is evidence of her dedication that station users will stop and fill out comment forms praising her attitude and hard work. Diane has touched the lives of multitudes of people over the years. She always has the time to give to one who needs it.