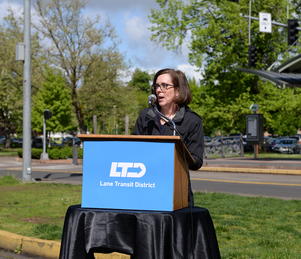 Governor Brown Tours Eugene
April 25, 2016
Drawing attention to Oregon's transportation challenges, Governor Kate Brown toured the Franklin Boulevard corridor on LTD's EmX today. The corridor is an important transportation link between Eugene and Springfield.
"The transformation of a transportation corridor would help improve the economic vitality of the Springfield/Eugene region and the entire state," says Oregon Governor Kate Brown. "To achieve this, Oregon needs a transportation package to make critical investments in seismic retrofitting and investments in transit to reduce congestion and give more choices to Oregonians."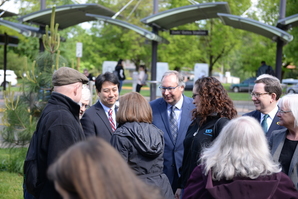 More than 50 guests joined Governor Kate Brown in touring the region's model BRT system (known as EmX). Guests included State Representatives John Lively and Phil Barnhart, the mayors of Eugene & Springfield, the Director of ODOT, U of O and LCC Presidents, 4J, Lane and Springfield Schools Superintendents, Chamber of Commerce Directors, local elected officials, business leaders and transit advocates.
"Our vision is to create a transit system that gets people to school, to home, to work, and where they want to play. A transit system that supports economic development by supporting employers and employees. And, a transit system that shows what type of community we are." Kitty Piercy, Mayor of Eugene
"Imagine a future with safe and accessible sidewalks and bikeways, redeveloped land with residential, commercial and open space near downtown and the U of O, access to the Willamette River via the Riverfront Park and path, and Glenwood as a place filled with activity and economy." Christine Lundberg, Mayor of Springfield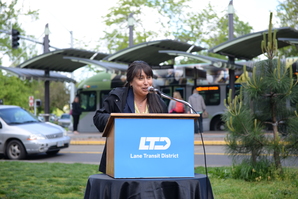 "EmX has revolutionized transit in Eugene and Springfield. Our Bus Rapid Transit system has many of the same amenities that make light rail so popular, but it operates at one-tenth the cost." Aurora Jackson, LTD General Manager
"Once the West Eugene line is complete, EmX will allow passengers to travel 16 miles between Springfield and Eugene, connecting residents to 56,000 jobs along the EmX line." Gary Wildish, LTD Board President
The Governor's tour highlighted the vision of both communities to transform corridors into complete streets with improved transit. This and other similar multimodal transportation projects can help improve economic vitality in the region and help make Oregon a hub for transportation innovation.