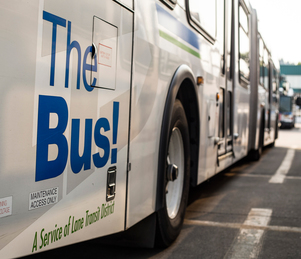 Lane Transit District Adding Trips and Adjusting Schedules for Better Service
February 4, 2016
Contact:
Meg Kester, Meg.Kester@LTD.org or
Edward McGlone, Edward.McGlone@LTD.org
Office: 541-682-6101ce

Beginning Sunday, Feb. 7 LTD will make minor changes to 12 routes to ensure buses run on time and minimize passenger wait times.
"We make adjustments to our system three times a year to improve the service for our passengers," says Aurora Jackson, general manager of LTD. "We're continually gathering input from the community and these changes reflect what we've heard."
This month, trip additions and schedule adjustments are being made to improve system-wide performance. Additionally, Route 93, serving Veneta, is being extended to serve the West Lane Shopping Center at 126 and Territorial Highways.
Transit riders are encouraged to check if their routes are effected by visiting LTD.org and using either the "Plan your Trip" tool for customized travel plans, or the "Find your Routes" section for information on specific routes. Both features are available on the right side of the LTD home page. Paper versions of the route changes also are available on buses and at the Customer Service Center, located in downtown Eugene at 10th and Willamette Street.
For transit service information, visit LTD.org or call the Customer Service Center at 541-687-5555 (7-1-1 TTY) on weekdays from 7 a.m. – 7 p.m.