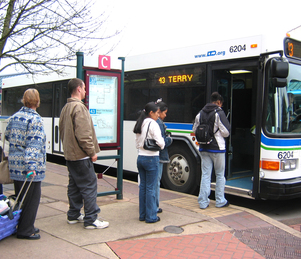 Lane Transit District Board Approves Moving Forward With Electronic Fare Collection System
March 26, 2019
Media Contact: Pat Walsh
Email: pat@voxprpa.com.
Phone: 541-513-1236

Lane Transit District's (LTD) Board of Directors has approved for the agency to enter into contract negotiations with Delerrok, Inc., a California-based electronic fare system vendor.
"LTD is excited to provide riders with another convenient service that makes riding the bus an easy decision," said Aurora Jackson, LTD's General Manager. "Offering electronic fares is one more example of LTD's commitment to creating a more vibrant, sustainable, and equitable community."
The new electronic fare system will allow riders boarding an LTD bus to wave a prepaid "smart" pass or a smart phone app in front of an electronic validation box to pay their fare. LTD will continue to accept cash for fares as well.
"LTD expects electronic fares to speed up boarding time, ensure fare accountability, and provide anonymous ridership data to be used for transit service planning purposes only," said Cosette Rees, LTD's Director of Customer Service and Specialized Services.
The value of the proposed six-year contract with Delerrok is $2.8 million. This includes the equipment and services to implement and maintain the system over a six year period. LTD and the Delerrok are committed to ensure a successful implementation, including outreach and education to help the community transition to the new program smoothly. Details of the new electronic fare system will be worked out between LTD and Delerrok representatives over the next few weeks.
The electronic fare system could go into service as early as late summer 2019.