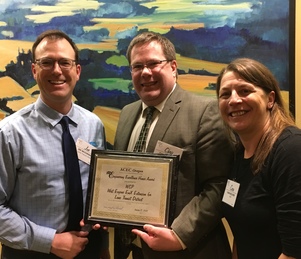 Lane Transit District Receives Engineering Excellence Honor Award
January 24, 2018
Media Contact: Therese Lang
Email: Therese.Lang@LTD.org
Phone: 541-682-6101

Lane Transit District (LTD), along with engineering firm, WSP, were honored on Wednesday, January 17 by the Oregon chapter of the American Council of Engineering Companies (ACEC) for work on the extension of the EmX line in west Eugene, called EmX West.
LTD and WSP received the Honor Award, which recognizes engineering projects that demonstrate leadership in a variety of measures including uniqueness of the project, innovation in engineering techniques, future value to the engineering profession and enhanced public awareness or enthusiasm of the role of engineering.
"We are honored to have EmX West receive this award," said Joe McCormack, Director of Facilities Management with LTD. "This project was not just about adding EmX service to west Eugene but also to add infrastructure benefits to the community, including five miles of rebuilt or new sidewalks, two additional signalized pedestrian crosswalks, 188 ADA-accessible corners and ramps, two bicycle-pedestrian bridges and public art. Our engineers on this project, WSP, brought their A-game to make EmX West a big success."
This project is eligible to advance to ACEC's national design competition, which takes place in Washington D.C. on April 17, 2018.