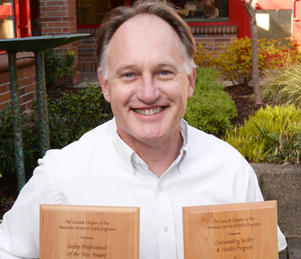 Lane Transit District Wins Two Occupational Safety & Health Awards
March 22, 2016
At the 2016 Cascade Occupational Safety & Health Conference in early March, Lane Transit District (LTD), walked away with awards for Outstanding Safety & Health Program and Safety Professional of the Year.

LTD's safety program commits to the well-being of employees by focusing on wellness and risk management to prevent problems before they occur, encouraging employee involvement and feedback on safety and doing vigorous analysis of incidents throughout the system. David Lindelien, LTD's risk manager, was named Safety Professional of the Year. Dave focuses on personal interactions with employees who are experiencing health issues, pursues grants to help with mobility device securement on vehicles and designing safe bike racks for inside EmX Bus Rapid Transit buses.

Since implementing a robust safety program and hiring Lindelien in 2008, LTD has seen a 47 percent decline in Workers' Compensation premiums and a 44 percent decline in the number of injuries.