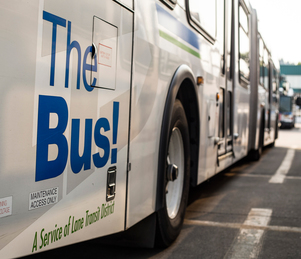 LTD Adding More Frequent Service and Longer Operating Hours
September 3, 2015
For Immediate Release
Media Contact: Andy Vobora
Email: Andy.Vobora@ltd.org
Office: 541-682-6181
Cell: 541-501-9398
EUGENE, Ore. (Sept. 3, 2015) – Effective Sunday, Sept. 6, LTD will begin providing more service to the community based on public input, resulting in less wait time and more late night buses.
"We're very excited to improve the service to our passengers," says Ron Kilcoyne, general manager of LTD. "The public provided great feedback during last year's review process, and more frequent routes with longer service hours were at the top of the request list."
LTD makes adjustments to its system three times a year, based on a yearly review and input from the community. The largest of these changes occurs in September, timed for the large influx of students returning for a new school year. This month, the majority of LTD's bus routes are improving to provide more trips throughout the day. Additionally, Route 12 is being extended north on Gateway to serve the new Veterans Administration Clinic on Chad Drive.
To see how the changes may improve your routes, visit LTD.org and use the "Plan your Trip" tool for customized travel plans or the "Find your Routes" section for general information on each route. Both features are available on the right side of the home page. Paper schedules also are available in the new Rider's Digests on buses and at the Customer Service Center, located in downtown Eugene at 11th Avenue and Willamette Street.
For more information about LTD and specific route changes, visit LTD.org or call the Customer Service Center at 541-687-5555 (7-1-1 TTY).
###