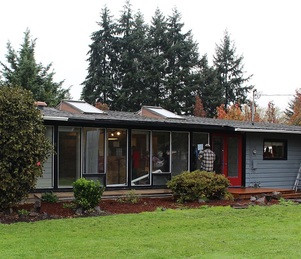 LTD's Supports Veterans' in Lane County
December 18, 2015
LTD recently participated in the Veterans' Housing Project's (VHP) eighth home grand opening. This house was near and dear to LTD as we donated the house to VHP, staff members spent countless hours volunteering to renovate the house and it also helps build the community around what will be the future Santa Clara Community Transit Center. When the former Santa Clara Elementary School site in North Eugene was purchased earlier this year for the transit center, it came with a house on a half-acre in desperate need of repair. Plans for the site didn't need the house and half-acre, so LTD decided to donate it to the Veteran's Housing Project, a collaboration of private, public and nonprofit organizations that provide affordable housing for military men and women transitioning back into the community after service. This house in particular will be rented out to veterans attending college at a reduced rate for up to two years.
In addition to the work with VHP, LTD has been fortunate enough to be able to support veterans in Lane County by offering transportation options. On Veterans' Day, Nov. 11, all veterans could ride LTD for free simply by stating they were a veteran. Free rides were also available to support the annual Lane County Stand Down event on Sept. 25, which provided an opportunity for veterans to receive free medical services and to learn about the many community resources available for veterans.
These projects all speak to how caring and innovative our community and LTD wholeheartedly shares the vision that will support veterans for years to come!