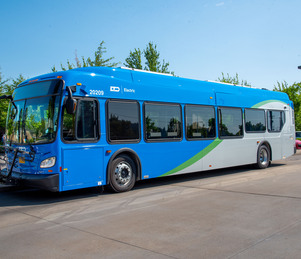 Battery-Electric Bus Contract Finalized
September 16, 2021
Lane Transit District (LTD) has finalized an agreement to purchase 19 battery-electric buses from New Flyer of America Inc. ("New Flyer"), a subsidiary of (TSX: NFI, OTC: NFYEF) NFI Group Inc. ("NFI" or the "Company"), a leading independent bus and coach manufacturer, and a leader in electric mass mobility solutions.
"LTD looks forward to adding more battery-electric buses to its fleet," said Mark Johnson, LTD's Interim General Manager. "Battery-electric buses replace the District's aging diesel-fueled fleet and supports LTD's and our community's commitment to reduce greenhouse gas emissions."
The contract calls for 19 battery-electric 40-foot Xcelsior CHARGE NG™ heavy-duty transit buses, including six depot chargers commissioned by New Flyer Infrastructure Solutions™.
"New Flyer has delivered more than 60 buses to LTD since 2004 and continues to deliver safe, reliable and efficient mobility through the growing presence of battery-electric buses," said Chris Stoddart, President, North American Bus and Coach. "Together with our full-suite infrastructure solutions, New Flyer's next generation battery-electric buses are helping LTD drive a zero-emission future."
When the 19-battery-electric buses are delivered to LTD during 2022, the District will have 30 battery-electric buses in its 100-bus fleet, exceeding its short-term fleet procurement goal to purchase 25 battery-electric buses by 2023.
The 30 battery-electric buses are part of an overall sustainability and fleet procurement plan to keep LTD on track to reach its climate action goals of 75% greenhouse gas ("GHG") emission reduction by 2030, and 100% fleet turnover to reduce fossil fuel dependency by 2035, as well as support the city of Eugene's, Lane County's and the state of Oregon's climate action goals.
The cost for the 19 Xcelsior CHARGE™ battery-electric 40-foot heavy-duty transit buses from New Flyer, including ABB depot chargers to support electric bus infrastructure, is $18.7 million, with funding provided by the state of Oregon and Federal Transit Administration.
Related news releases:
About NFI
Leveraging 450 years of combined experience, NFI is leading the electrification of mass mobility around the world. With zero-emission buses and coaches, infrastructure, and technology, NFI meets today's urban demands for scalable smart mobility solutions. Together, NFI is enabling more livable cities through connected, clean, and sustainable transportation.
With 8,000 team members in nine countries, NFI is a leading global bus manufacturer of mass mobility solutions under the brands New Flyer® (heavy-duty transit buses), MCI® (motor coaches), Alexander Dennis Limited (single and double-deck buses), Plaxton (motor coaches), ARBOC® (low-floor cutaway and medium-duty buses), and NFI Parts™. NFI currently offers the widest range of sustainable drive systems available, including zero-emission electric (trolley, battery, and fuel cell), natural gas, electric hybrid, and clean diesel. In total, NFI supports its installed base of over 105,000 buses and coaches around the world. NFI common shares are traded on the Toronto Stock Exchange under the symbol NFI. News and information is available at www.nfigroup.com, www.newflyer.com, www.mcicoach.com, www.arbocsv.com, www.alexander-dennis.com, and www.nfi.parts.
About New Flyer
New Flyer is North America's heavy-duty transit bus leader and offers the most advanced product line under the Xcelsior® and Xcelsior CHARGE® brands. It also offers infrastructure development through New Flyer Infrastructure Solutions™, a service dedicated to providing safe, sustainable, and reliable charging and mobility solutions. New Flyer actively supports over 35,000 heavy-duty transit buses (New Flyer, NABI, and Orion) currently in service, of which 8,600 are powered by electric motors and battery propulsion and 1,900 are zero-emission. Further information is available at www.newflyer.com.