ROUTE 970x - 971x

Butte to Butte Express

Save this route as a favorite
All Routes - Face Masks Required
LTD requires all persons over the age of 2 on LTD vehicles or LTD property to wear a face mask covering both nose and mouth. The face masks must be made of a solid piece of material without slits, valves or punctures and contain two or more layers of breathable, tightly woven fabric. Face shields, scarves, ski masks, bandanas and shirt collars are not acceptable face masks according to federal law, effective February 2, 2021. For more information on acceptable face masks and accommodation requests, visit
LTD.org/covid-19
.
All Routes - Bulky and Unsafe Items
In order to maintain adequate physical distancing, items that pose a safety hazard may not be boarded, such as bulky items that block aisles or items that are leaking fluids. Recyclables that can be safely transported without impeding aisles or placed on a passenger's lap without leaking are acceptable.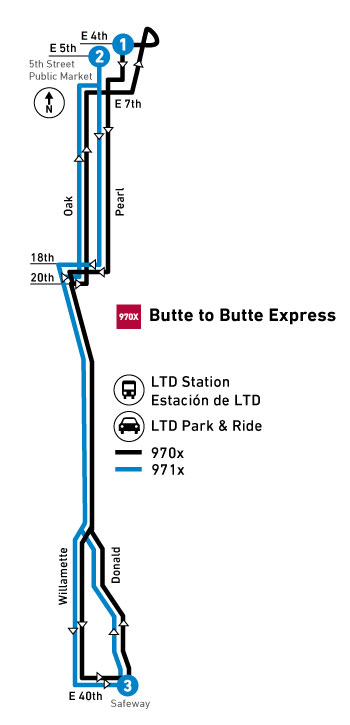 Runners/Walkers Ride Free on July 4

LTD offers free bus service on July 4 for runners and walkers of the Butte to Butte race. Participants can park near the finish line and ride to the starting line. Service is offered every five minutes from either the bus stop on 5th Avenue west of Pearl Street or the bus stop on 4th Avenue and Mill Street. Runners need to plan ahead of time and anticipate delays in service in order to reach the starting line before the start of the race. The free service is only from the two pick up locations to Donald Street and 40th Avenue near the start of the race.
Free fare applies to those attending the Butte to Butte.

Choose Your Travel Direction
| 5th Street Market on Pearl | Donald at 40th | 5th Street Market on Pearl |
| --- | --- | --- |
| | | |
| --- | --- | --- |
| 6:30 AM | 6:45 AM | 7:00 AM |
| 6:35 AM | 6:50 AM | 7:05 AM |
| 6:40 AM | 6:55 AM | 7:10 AM |
| 6:45 AM | 7:00 AM | 7:15 AM |
| 6:50 AM | 7:05 AM | 7:20 AM |
| 6:55 AM | 7:10 AM | 7:25 AM |
| 7:00 AM | 7:15 AM | 7:30 AM |
| 7:05 AM | 7:20 AM | 7:35 AM |
| 7:10 AM | 7:25 AM | 7:40 AM |
| 7:15 AM | 7:30 AM | 7:45 AM |
| 7:20 AM | 7:35 AM | 7:50 AM |
| 7:25 AM | 7:40 AM | 7:55 AM |
| 7:30 AM | 7:45 AM | 8:00 AM |
| 7:35 AM | 7:50 AM | 8:05 AM |
| 7:40 AM | 7:55 AM | 8:10 AM |
| 7:45 AM | 8:00 AM | 8:15 AM |
| 7:50 AM | 8:05 AM | 8:20 AM |
| 7:55 AM | 8:10 AM | 8:25 AM |
| 8:00 AM | 8:15 AM | 8:30 AM |
| 4th and Mill | Donald at 40th | 4th and Mill |
| --- | --- | --- |
| | | |
| --- | --- | --- |
| 6:30 AM | 6:45 AM | 7:00 AM |
| 6:35 AM | 6:50 AM | 7:05 AM |
| 6:40 AM | 6:55 AM | 7:10 AM |
| 6:45 AM | 7:00 AM | 7:15 AM |
| 6:50 AM | 7:05 AM | 7:20 AM |
| 6:55 AM | 7:10 AM | 7:25 AM |
| 7:00 AM | 7:15 AM | 7:30 AM |
| 7:05 AM | 7:20 AM | 7:35 AM |
| 7:10 AM | 7:25 AM | 7:40 AM |
| 7:15 AM | 7:30 AM | 7:45 AM |
| 7:20 AM | 7:35 AM | 7:50 AM |
| 7:25 AM | 7:40 AM | 7:55 AM |
| 7:30 AM | 7:45 AM | 8:00 AM |
| 7:35 AM | 7:50 AM | 8:05 AM |
| 7:40 AM | 7:55 AM | 8:10 AM |
| 7:45 AM | 8:00 AM | 8:15 AM |
| 7:50 AM | 8:05 AM | 8:20 AM |
| 7:55 AM | 8:10 AM | 8:25 AM |
| 8:00 AM | 8:15 AM | 8:30 AM |
Printable Schedule