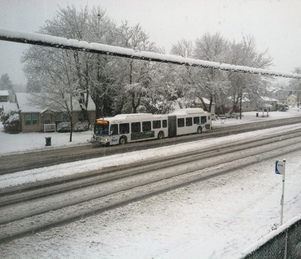 Winter Storm Making Travel Tough - Lane Transit District Continues Operation
January 5, 2017
Contact: Edward McGlone
Edward.McGlone@LTD.org
541-682-6104


Lane Transit District (LTD) continues operating despite severe weather and difficult roads.
The public transportation system's bus routes will roll out again Thursday morning to serve destinations throughout the Eugene-Springfield region. This includes regular bus, EmX (pronounced M-X), and RideSource services.

Many bus routes will be on necessary snow detours and bus schedules will be disrupted.
Up to 22 of the system's 33 routes may run on pre-planned detours depending on road conditions, especially buses on routes that operate on hills, over bridges, or on side streets that become difficult in slick or freezing weather. In unusually dangerous weather conditions, service may be further reduced or suspended on certain routes.

"LTD is committed to moving the public in a manner that is safe for both our passengers and our employees. We will keep as many routes as possible on regular service, but will adjust service as need be to ensure public safety," said LTD General Manager A.J. Jackson.

Bus riders can stay up to date by visiting LTD's service alerts web page at www.LTD.org/Service-Alerts and can sign up for mobile notifications via the Flash Alert Messenger Application. Customers can also download LTD's Snow and Ice detour information from www.LTD.org.